Join Team Anaconda for a live webinar, Jan 30, 2pm CT, as we tackle the four main concerns we hear from our customers and show you best practices for managing enterprise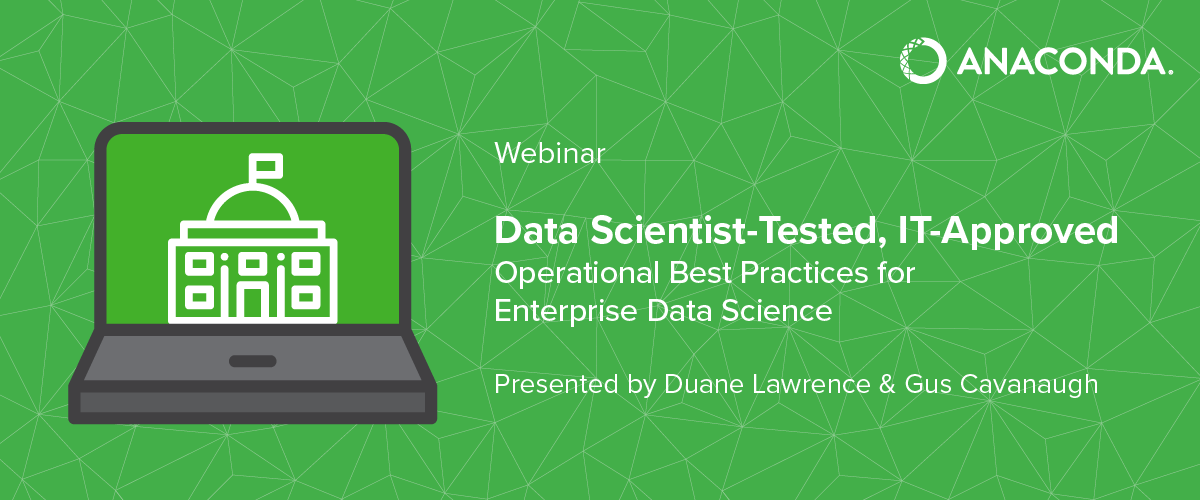 __data
Science" />
IT managers, we know how hard you work to keep things running smoothly at your organization. But when it comes to enterprise data science, do you know how to give your data science team the tools they need while also keeping everything secure and stable?
Join Team Anaconda for a live webinar on Tuesday, January 30, at 2pm CT, as we tackle the four main concerns we hear from our customers and show you best practices for managing enterprise data science. Specifically, we'll address:
Scalability: Oversee a lot of users on different machines? We'll demonstrate how to utilize your compute resources most effectively.
Security: Need to integrate open source tools while maintaining your existing security levels of authentication, encryption, authorization, and audit logging? We'll help you define security mechanisms, industry standard tools, and integration methods.
Integration with Existing Infrastructure: Want to give your data science team a single gateway into all your storage and compute resources? We'll go over example architectures for Spark clusters, RDBMs, and distributed storage.
Governance: Trying to govern the packages your data science team uses without restricting their flexibility or adding a ton of work to your plate? We'll show you Anaconda Enterprise's on-premise package mirror and dependency management features.

Contact an Anaconda Ambassador anytime to learn more about how Anaconda Enterprise can take your organization to the next level.
Sincerely,
Team Anaconda