Join Forrester and Anaconda for a webinar on Thursday, May 17, at 2:00 PM CT, to learn best practices for scaling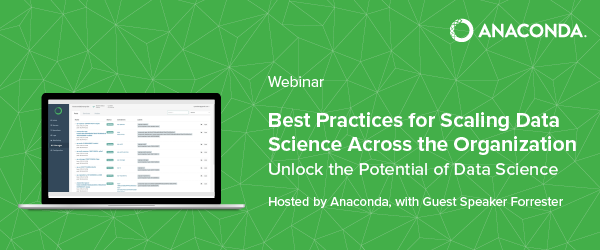 __data
Science" />
Effective data science in the enterprise is about aligning the right model, data, and infrastructure with the right outcomes. But most organizations today struggle to unlock the potential of data science to enhance decision-making and drive business value.
Join Forrester and Anaconda for a webinar on Thursday, May 17, at 2:00 PM CT, to learn best practices for scaling data science across your entire organization. Guest speaker Kjell Carlsson, a Forrester Senior Analyst, and Peter Wang, Anaconda CTO, will share their unique perspectives on how to tackle five key challenges facing organizations today:
Identifying, defining, and prioritizing valuable problems
Building the right teams
Leveraging the proper tools and platforms
Iterating and deploying effectively
Reaching end-users to generate value

Everyone who registers for the webinar will receive a link to the recording. Contact an Anaconda Ambassador anytime to learn more about how Anaconda can help you use data science more effectively and take your organization to the next level.
Sincerely,
Team Anaconda